Cann can offer quick turn short run digital printing as well as high volume offset printing. Cannís bindery offers the latest technology for finishing our printing work, from saddle stitching to Wire-O and Spiral binding.
We can deliver high quality on time and on budget.
Contact Cann Printing to help with all you printing needs.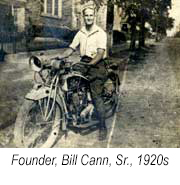 Way Back When
Before World War I, Bill Cann Sr. sold printing papers for Garrett Buchanan in Philadelphia (now Unisource). After serving in the WWI, he came to Wilmington in 1920 and started a printing business with his brother, Cann Brothers & Kindig, Inc. with offices at 305 Torbert Street, "The busiest little street in Wilmington" where WASHINGTON crosses TWELFTH.

Although the business was successful, relations with his brother were "stormy" and in 1932 Bill Sr. started his own business, Cann Printing, at 1610 Delaware Avenue.
---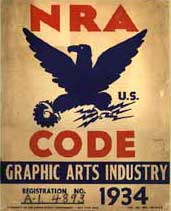 Equipped for Tomorrow
Cann Printing, always looking ahead to new technology, was the first printer between Baltimore and Philadelphia to install an offset press... a Webendorfer, in 1936. Bill Sr. said at the time he did it "To make business better whether business was good or not". The equipment led to growth and expansion.
---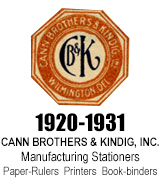 Cann Printing Announces Merger
In 1948 Cann expands it's printing , publishing, lithographing and binding business by adding licenses for Wire-o, Cerlox Plastic, Tauber Tube Plastic - Tauber Ring, Wire Spiral and Plastic Spiral, Tallyho and Mult-o Ring Loose Leaf System of Bindings, along with machinery and a building at 29th and Tatnall Streets.

These assets,owned by his brother, Winfield L. Cann, were merged into a new combined company named Cann Binding & Ruling Company.

The idea was to provide customers buying printing, publishing and binding services with a single source for all their work under a single management, "thereby insuring delivery dates, by controlling perfectly each phase of production". It was a good idea.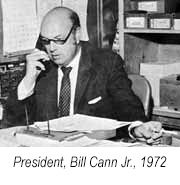 Cann grew providing daily racing programs for Delaware Park in 1948 expanding service to include Penn National in Harrisburg and Brandywine Raceway in Wilmington by 1972 and beyond programs to condition books and promotional brochures. They also became known as financial printers (annual reports, financial statements, prospectuses, etc) and produced magazines, directories, and other periodical publications.

Today, Cann Printing is a totally modern, printing company providing digital pre-press and the same friendly, knowledgeable service to clients locally and around the country that they have for over 65 years.
---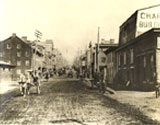 Cann's Beginnings
1932
William N. Cann, Inc. Founded
1936
Cann Prining brings first offset press to Delaware
Cann Printers is part of Wilmington, Delaware history.